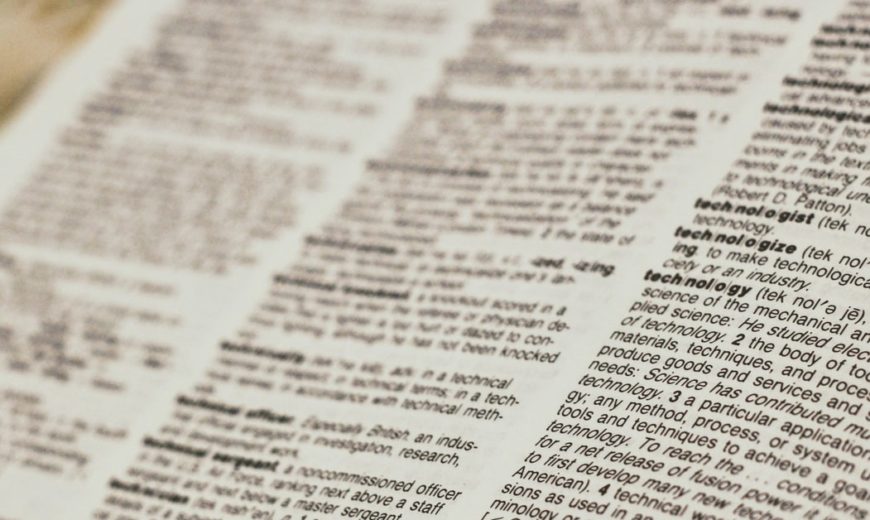 Search Engine Optimization, or SEO, is a series of actions you can take that are designed to increase traffic to your website by making your site rank on the first page of Google or another search engine. In short, the point of SEO is to establish your website as the "authority" in your industry or on your topic, according to search engines.
SEO has become its own industry within the tech world and SEO strategies are becoming increasingly complex. As can be expected for such a complex field, there are a lot of confusing SEO terms with new ones being developed all the time.
Here are some of the most common terms you'll encounter as you explore the world of SEO:
Anchor Tag Optimization – Sometimes on a web page, you'll see a link that takes you to a different place on the same page. An anchor tag is placed on the part of the page that link goes to. Since search engines give preference to websites that have sensible links, the anchor tag names must make sense for the content they're pointing to. Therefore, anchor tag optimization is the process by which anchor tags are reviewed and updated as needed.
Backlink – This is simply a link where one website links to another website. If a website links to yours, search engines will consider that website to be using you as an authority. This will boost your website's search rankings, especially if the site linking to yours already has a high level of authority.
Competition Analysis – In order to fully understand the current and future state of your industry's digital presence, agencies and freelancers offering SEO services will often conduct a competition analysis (sometimes called a competitive analysis) in which the top performing websites in your industry or field are analyzed in order to discover the elements that are making them rank successfully in search results. Since a good competition analysis is a very in-depth process, not all agencies offer this service. Other agencies may charge an additional fee.
Content Duplicity – Search engines such as Google, Yahoo, and Bing will award a higher ranking to websites with unique and original content. Sites that pull content from other pages will not be ranked as highly. Running a content duplicity check on a website will check to see whether it contains any duplicate content.
Directory Submission – This is when a website is submitted to an online directory, such as a local business directory or a "top 10" list. Directory submission is a very effective SEO strategy in 2020.
Google Analytics – Google Analytics is a powerful tool that measures many aspects how users interact with a website. Some of the most important metrics are:
Audience location (where your website's viewers are in the world – you may have a sizeable audience in a country you didn't know about!)
Audience engagement (how long users spend on a page, what pages they access, how many pages they access, etc.)
Device usage (how many of your users are viewing your website on a desktop computer, tablet, or mobile device?)
Referral source (where is your audience coming from when they access your site? Google? A different search engine? Social media? Other websites?)
Bounce rates (what pages are users on right before they decide to leave your site? And how long do they stay on your pages before they leave?)
Google Penalty – In most cases, a drop in search result position is a result of poor SEO maintenance or an update to the search engine's algorithm (the program it uses to determine ranking). However, there are some instances that Google actually issues a penalty to a website, causing its ranking to drop or even be removed from search results altogether.
Google Webmaster Tools – This tool is similar to Google Analytics in that it provides a number of useful website performance reports, but Google Webmaster Tools specifically measures aspects of how search engines interact with a website.
Image Tag Optimization – Search engines are looking at website content to establish which ones are considered authorities, but what about images and infographics? Shouldn't they count as adding authority? Search engines can't actually see what are in images unless you give all images an image tag, which is a brief description of the contents of the image. Image tag optimization is simply the process of ensuring that all images have tags and that the content of those tags align with the keywords the website is focused on.
Keyword – A keyword is a word or phrase that people type into a search engine. You can target specific keywords to become an "authority" of with an SEO strategy.
Keyword Group – Rather than just become an authority of one keyword, it's good practice to choose several related keywords to form a keyword group. That way, your website will rank higher in search results even if people use varying search terms. Sometimes your product or service offering will be so diverse that you'll want to target multiple keyword groups in order to bring a wider variety of traffic to your site.
Landing Page – Search engines award higher rankings to sites that give the searcher exactly what they're looking for on the first page. Sometimes your website's home page won't have the best information depending on the keywords searched for. In this case, you will want to create a landing page that contains the best information for those keywords. An optimized landing page will rank higher than a generic page that doesn't have a good match with the search terms.
Link Optimization – Links that go from your website to another site must be maintained to ensure a good search engine ranking. For example, if you link to a page on a different site and that site later takes that page down, you now have a broken link on your site, which will hurt your website's performance.
Location Management – If you're running a business with a physical location, it's important to let potential customers know where you are. Location management in SEO involves making sure that your location is prominent on your website, and that your business shows up on Google Maps.
Meta Tag Optimization – Meta tags are pieces of code that describe different parts of your website to search engines. There are different types of meta tags that tell search engines which parts of your page are most important and what information is contained there. Types of meta tags include title tags, meta descriptions, the robots tag, alt text, and header tags.
NAP Optimization – NAP stands for Name, Address, and Phone Number. NAP optimization is the process of making sure that search engines like Google know to associate your address and phone number with your business.
Page URL Optimization – One important factor that search engines take into account when ranking sites is the relevance of the page URL, or web address, to the content of that page. Page URL's should describe a page's information, including keywords.
Robots.txt – This is a file added to SEO-friendly websites that tells search engines which pages to index and which to ignore.
SEO Audit Report – An SEO Audit Report is an on-demand analysis of the current state of a web page's SEO. You can check any website you want with uVision Partners' SEO Audit Report for free!
Sitemap – A sitemap is a page that lists the pages of a website. Google and other search engines use sitemaps as a directory of a website, helping them to better index the site and improve its search ranking.
Social Bookmarking – There are certain sites that allow users to share web pages with each other. These sites are called social bookmarking sites, and some of the most popular are Twitter, Pinterest, Digg, and Reddit.
Social Sharing Buttons – Good content pages should have buttons where a user can instantly share them to their Facebook, Twitter, or other social media feed. This page has them at the top of the right sidebar. Try them out!
Title Tag Optimization – A page's title tag is what shows up as the title of the page when it's showing in the browser. It's also the default title of the page when it is bookmarked to a browser or a social bookmarking site, or shared on social media. For these reasons, search engines like Google consider title tags to be an important reflection of the content of the page, so it should be concise, descriptive, and contain keywords specific to the page.
Want to discuss how SEO can help your business grow? Call Surafel Tesemma, our Project Development Manager, at (443) 583-4196 or email us at [email protected].